Pet Market Insights From Analyst David Lummis
---
Packaged Facts Column for Petfood Industry/1st Quarter 2010
State of the Industry
True to the pet industry's recession-resistant claim to fame, sales of pet products and services rose 4.8% in 2009 to reach $53 billion, meaning that the market added two and a half billion dollars in the midst of the biggest economic crisis since the Great Depression.  That said, pet market growth has not been uniform across areas of the market, with the less discretionary categories of food and veterinary services faring the best, and non-essential products and services faring the worst.  Sales of veterinary services rose nearly 10% in 2009, followed by petfood at 5%, non-food supplies at 3%, and other pet services at 4%, according to Packaged Facts' March 2010 Pet Market Outlook 2010-2011 report.
Moreover, while the recession is officially over, no one expects consumer confidence and spending to rebound overnight, with most economists predicting a slow recovery.  And no marketer or retailer can afford to ignore recessionary effects on consumer shopping patterns that could linger for years.  To weather the economic storm, many Americans reprioritized shopping lists along essential vs. discretionary lines, reevaluated channel loyalties based on factors including convenience and discounts, and traded across categories and brands.  For example, although dog and cat food sales rose 7% in 2009 according to Information Resources, Inc. data for supermarkets, drugstores and mass merchandisers except Walmart, this high rate of growth derives in part from slower going in the pet specialty channel.
In short, the word "restraint" will continue to characterize how Americans shop and what they buy in the years ahead, making petfood appeals based on health, safety, convenience, comfort, practicality and professionalism more important than ever in wooing the nation's 61 million pet-owning households and meeting the needs of their nearly 400 million pets.  At the same time, there's still plenty of room for pet pampering and indulgence positioned squarely on the human/animal bond, as reflected in dog biscuits/treats and cat snacks 2009 sales gains of 8% and 15%, respectively, per IRI.
Value, Value and Value
During 2010, the most effective strategy for all pet market players can be summed in a word:  Value.  Because this common denominator takes on different meanings for different consumer groups, Packaged Facts segments pet owners into three fairly evenly sized cohorts, each of which defines and responds to the notion of value in its own way.
Value-Critical Pet Owners tend to not view high prices as a primary petfood purchasing criterion, spending 25%-50% more than pet owners on average.  However, they do expect the products they buy to deliver tangible health benefits and emotional rewards, and will be the first to say so if they don't.  Not surprisingly, this group comprises higher-income households as well as those who view their pets as full-fledged members of the family.  Because these dog and cat owners associate petfood and treats closely with pet health, they are the most ingredient-aware group and the least likely to switch brands absent a good reason.
Value-Influenced Pet Owners view pricing as a top petfood purchasing criterion.  Unlike value-driven consumers (see below), price is not, however, their foremost shopping draw, and they may be swayed in either premium or value directions.  This is the group Walmart is going after with its "exact same brands as those found in the pet specialty channel at unbeatable prices" campaign (which features the mass/specialty bridge brand Iams).  It's also the target for PetSmart's new TV commercials offering up to 20% savings on hundreds of items.  As this price-centered duel suggests, a fierce tug of war for value-influenced pet owners is underway, with a growing proportion of the group shopping both mass and pet specialty, and with the weak economy giving the latter a leg up.
Value-Driven Pet Owners base their petfood purchase primarily on price.  Although this does not preclude seeking out higher quality foods, this is the group most likely to hold the opinion that there's little if any difference between national and store brands.  With the winds of the recession beneath its wings, private label increased its share of petfood sales to 11% ($622 million) in 2009, up from 10% ($543 million) in 2008, according to IRI, with value-driven pet owners likely representing the bulk of that 15% increase.
By focusing heavily on any one of these value groups, petfood marketers increase their chances of success during these still iffy economic times.  Even better, many companies and brands are well positioned to attract value-influenced pet owners in addition to one of the other groups, and during the coming year and beyond those "middle of the road" consumers will determine the fortunes of many pet market players.
---
Pets International, Issue 3/2010
U.S. Pet Supplies Market Expecting Pent-Up Demand
Retail Sales Near $11 Billion in 2009
Packaged Facts estimates that U.S. retail sales of non-food pet supplies totaled approximately $10.7 billion in 2009, up 2.5% over 2008.  During the five-year 2005-2009 period, the market increased by a total of 17.6% and posted a compound annual growth rate (CAGR) of 4.1%.  As a result of the economic recession, growth slowed in 2008 and 2009 as consumers reduced spending in non-essential categories and traded over to lower-priced products and value-oriented channels.
U.S. Retail Sales of Pet Supplies:  2005 vs. 2009
(in millions of dollars) Source:  Packaged Facts, The U.S. Market for Pet Supplies and Pet Care Products, 7th Edition report (January 2010)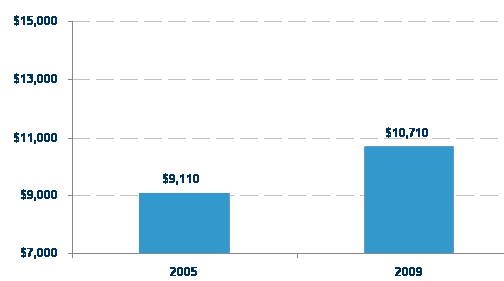 Dogs account for the lion's share of sales of pet supplies, at 61% in 2009, followed by cats at 33%.  The balance of sales goes to other animal types, with fish and reptiles slightly edging out birds and small animals, at 55% to 45%, respectively.  Flea/tick products are the top-selling dog category by a significant margin, accounting for almost one-quarter (23%) of dog supply sales during 2009 (inclusive of products restricted to the veterinary channel).  The cat side of the aisle is dominated by the staple litter, which accounted for 43% of cat supply sales during 2009.

Duo the Leading Retail Force
In the U.S. market, pet stores are the top channel for non-food pet supplies by a considerable margin, representing nearly half (46%) of sales in 2009.  Most of these pet specialty sales trace back to PetSmart and Petco, which together accounted for almost a third (31%) of the market in 2009, with independents pulling in less than half that amount (15%).  Supermarkets continue to slide, to 10% in 2009, while mass merchandisers continue to rise.  From 2005 to 2009, the mass sector's market share went from 22% to 23%, no doubt benefiting from the recession as consumers traded down across brands and consolidated shopping trips. Another retailing bright spot is online, and with pet products showing up in a wider-than-ever array of channels, "other" channels' collective share is also on the ups.
Mergers & Acquisitions Ongoing
Despite the global economic meltdown and uncertainties surrounding major financial and lending institutions, the pet market saw several mergers and acquisitions in 2008 and 2009.  On the non-food side, these included Bramton's purchase of Veterinarian's Best, Radio Systems' purchase of MultiVet International, and Sergeant's purchase of Chomp and of Virbac's Consumer Brands division.  Activity has been slower on the pet food side, with no major shifts occurring either year, although Old Mother Hubbard/Wellness (a top brand in the pet specialty channel) went from one venture capitalist to another.  While still quite respectable, this level of activity pales in comparison to that seen earlier in the decade, with such dramatic shifts as Rayovac's 2005 market entry and subsequent creation of Spectrum Brands, and Hartz's summer 2004 acquisition by Japan's Sumitomo.
2009 a Record Year for New Product Entries
The U.S. pet supplies market relies on new products as a principal sales driver, with upgrades and innovations constantly appearing to pique consumer interest and open retail doors, and marketers were apparently relying on new products more than ever during the economic downturn.  According to Product Launch Analytics, a Datamonitor service, the numbers of new product lines and stock-keeping units (SKUs) jumped sharply in 2009, with the number of reports increasing 57% to 213, and the number of SKUs increasing 84% to 735.  Considering the previous four-year period, this is the highest level of new product activity by far, with just 148 reports and 402 SKUs appearing in 2005.  Despite the weak U.S. economy, the top package tags and marketing claims make it clear that the pet market continues to shift in premium directions.  At the top of the list is natural, which appeared in 102 new product reports, up from 65 in 2008.
Economic Concerns Intensify Cross-Channel Competition
As of spring 2010, cross-channel competition is at an all-time high in the U.S. market as consumer trends adopted during the recession persist, from spending cutbacks to consolidated shopping trips.  Signs of the challenges retailers face include fierce competition between big-box pet specialty and mass, private-label incursions into non-food pet products, declining sales among independent pet specialty retailers, and price promotions across all retail sectors.  In such an environment, value-oriented retailers stand to cash in, as Walmart has been aggressively working to do.  According to Packaged Facts' February 2010 pet owner poll, 52% of pet owners agree with the statement "I shop for pet products at a variety of stores to find the best prices, special offers, and sales," with 16% strongly agreeing and 34% somewhat agreeing.  On the other hand, only 30% of survey respondents report that they do not engage in deal-seeking behavior of this sort.
With these same trends continuing into 2010, retailers are employing a variety of strategies to draw shoppers into the store, and cooperative promotional programs with vendors are going strong.  For retailers, one of the biggest advantages of co-op promotions is that the big consumer packaged goods outfits typically foot much of the bill, allowing retailers to impact trip decisions without compromising their own margins too drastically.  Coupon offers also can be highly effective in supporting store loyalty programs such as Petco's PA.L.S. and PetSmart's PetPerks, while forming the core of collaborative special events programs between retailers and manufacturers, à la PetSmart's President's Day sale featuring Hill's Science Diet and its new lower pricing.
Looking Ahead
As a result, with the economy on a slow but apparently steady recovery path, Packaged Facts is predicting a better showing for pet supplies in 2010 as pent-up demand begins to kick in.  By our forecast, annual sales growth will rebound from 2.5% in 2009 to 4.0% during 2010, then climb back up to 5% in 2013 and 2014—an assessment that presumes much market dynamism moving forward.