The convergence of social media, mobile devices and consumer lifestyles is ushering in a new era of restaurant-consumer interaction, opening new doors for restaurant operators to build customer relationships and sales opportunities, according to Packaged Facts' Social Media and Technology in the U.S. Foodservice Industry: Trends and Opportunities for an Emerging Market.
Tethered by the Internet, restaurant operators are increasingly interacting with restaurant consumers in real-time—at work, at home or in mid stride. This provides significant opportunity to shape consumer food choices not only as they are being made, but also in proximity to a restaurant seeking that consumer's business.
This Packaged Facts report provides the insight and analysis foodservice market participants need to understand and leverage social media and technology platforms to enhance their bottom lines. The analysis includes the following:
Social Networking Platforms
Consumer Review Platforms
Food Blogs And Food Photography
Technologic Dining In Action
Smartphones And Applications
Online Ordering Platforms
Anatomy Of The Mobile Restaurant Ordering User
Anatomy Of The Urban Diner
Using Social Media To Effect: Restaurant Case Studies
Market Insights: A Selection From The Report
---
Anatomy of the Mobile Restaurant User
In this section, Packaged Facts analyzes results from its October 2010 proprietary consumer survey. As part of the survey, respondents were asked whether they agreed with the following
statements:
"I use my cell phone or other portable device to place restaurant orders."
"I use my home computer to place restaurant orders."
"Going out to restaurants is a part of my lifestyle."
"I use the internet to do a lot of research on food and health."
Analysis of positive responses to these questions frames this section's content.

A youth driven phenomenon
According to Packaged Facts' October 2010 proprietary consumer survey, home computer- and mobile-based restaurant ordering is more likely among younger adults, with 18-24s 81% more
likely than average to engage in mobile ordering and 60% more likely than average to order from their home computer. Internet-based ordering is only slightly less pronounced among 25-34s.
Internet-based food and health research is also youth-driven.
This can be explained by younger consumers' higher broadband and cell phone adaption rates, as well as their generally higher restaurant engagement.
For reference, according to a May 2010 survey conducted by the Pew Research Center's Internet & American Life Project, broadband penetration among 18-29s was 80%, versus 75% among 30-49s, 63% among 50-64s and 31% among +65s.

Mobile payments
Why it matters: A new era of speed and convenience
According to Chase Card Services, use of RF-enabled cards reduces consumers' average transaction time by between 10% and 40%, depending on whether purchases are made in stores
or at drive-throughs, and increases the average sale for some merchants by 40% more than cash purchases and by 35% over regular credit cards with magnetic stripes ((Consumer Payment
Trends in the U.S., Packaged Facts, April 2010).
While many already have contactless card capabilities, we believe phone-based mobile transactions hold significant promise. As smartphones take on more and more responsibilities, and as consumers become more comfortable with the technology, the extension to "virtual wallet" appears natural and logical.
In the News
---
Facebook, Twitter, and Smartphones Lead Social Media-Fueled Innovation within U.S. Foodservice
New York, February 8, 2011 — Social networking sites and smartphone apps are changing the ways consumers interact with restaurants and with their fellow restaurant goers, creating exciting opportunities for foodservice operators and marketers, according to Social Media and Technology in the U.S. Foodservice Industry: Trends and Opportunities for an Emerging Market by Packaged Facts. Restaurants that create a presence on social media can generate brand awareness, promote upcoming events and limited time offers, engage with the customer base, recruit employees, and build brand-loyalty.
"We believe the restaurant industry is in the midst of being shaped by the convergence of the mobile, yet always connected, consumer; location-based and context-aware technological innovation, and mobile payments, which already demonstrate the potential to redefine how to cultivate restaurant guest loyalty, incentivize dining occasions, and better tailor marketing messages," says Don Montuori, publisher of Packaged Facts.
Restaurant lifestyle engagement informs technology use, according to the report. For example, according to Packaged Facts' proprietary survey, 31% of adults who consider going out to restaurants as "part of their lifestyle" use their computer to place orders, while 21% use their cell phone or other portable device to do so.
Social media outlets Facebook and Twitter in particular are providing fertile opportunities for innovation. As Starbucks and Chipotle Mexican Grill have discovered, Facebook interaction offers tremendous potential for restaurant brands seeking consumer mind share; through well-timed and tailored online incentives, the brand can weave its way into consumers' lives, according to the report. And because Facebook users are also frequently on the go, the foodservice industry can use the site to ramp up location-based marketing. Packaged Facts expects such efforts to explode in 2011, as the industry increasingly uses social media to guide patrons to a particular restaurant while they are mobile and deciding where to eat.
Twitter offers restaurants a significant opportunity to reach a younger, more urban, multi-cultural audience, because Twitter usage is particularly popular within the Hispanic, African American, and Asian populations. And, according to the report, Twitter has proven itself to be critical in attracting followers - and patrons - to food trucks, an urban-based and exploding segment of the foodservice industry. Meanwhile, handheld devices and technology are allowing point of sale and in-restaurant tools to evolve and expand. Some of these devices streamline a customer's visit and maximize efficiency for the restaurant. Introducing such technologies may also reduce the instance of human error in order taking and bill calculations. Mobile phones are already ubiquitous, and Packaged Facts recommends that restaurants stay abreast of quickly emerging ways to tap into the restaurant guest early in the decision making process.
Social Media and Technology in the U.S. Foodservice Industry: Trends and Opportunities for an Emerging Market focuses on the quickly evolving social media and technology trends currently shaping the future of the restaurant industry. The report specifically assesses the impact of social networking sites such as Facebook and Twitter, as it relates to consumer-to-consumer interaction, consumer-to-business interaction, and the ramifications and opportunities for the restaurant industry. It also identifies and assesses emerging technologies and smartphone applications that Packaged Facts believes will help reshape the industry within just a few years. Emerging multi-concept ordering platforms, popular online consumer review platforms, and innovative food blogging & photography sites are also identified and assessed.
About Packaged Facts—Packaged Facts, a division of MarketResearch.com, publishes market intelligence on a wide range of consumer market topics, including consumer goods and retailing, foods and beverages, demographics, pet products and services, and financial products. Packaged Facts also offers a full range of custom research services.
###
Additional Materials
---
Foodservice Market Insights
The insights you need, all in one collective series from Packaged Facts.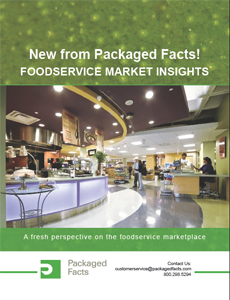 Additional Materials
---