Now in its fourth edition, Packaged Facts' Pet Insurance in North America is the most comprehensive examination of the U.S. and Canadian pet insurance markets available and a must-have for any company interested in this dynamic industry. Although sales growth slowed due to the recession, revenues (measured as gross written premiums) remained in the double digits in 2009 while delivering a 2005-2009 compound annual growth rate of 21%. Packaged Facts expects the North American market for pet insurance to continue to chart strong annual increases over the next five years, with the high level of competitive activity helping to offset the slow economic recovery and ongoing challenge of communicating the value of pet health insurance to budget-watching consumers.
As of 2010, industry pioneer Veterinary Pet Insurance (VPI) continues to lead the market. However, both the U.S. and the Canadian pet insurance markets have experienced significant market share shifts during the past five years as more than a half dozen new companies have come onto the field. Each of these companies brings with it unique strengths, in some cases including potent co-marketing affiliations with powerful brands (e.g., PetPartners and the AKC, PurinaCare with its own famous name), and in other cases including important retail channel thrusts (e.g., PetFirst with Kroger and Petfinder.com, and Trupanion with Petco). The industry is also seeing more investment backing and large insurance companies coming into the market as underwriters, including Aon with Healthy Paws, Aetna with Pets Best, and Berkshire Hathaway with PurinaCare.
Based on primary research including interviews with every leading pet insurance provider in North America, this latest edition of Packaged Facts' groundbreaking 2003 report offers a road map for competing in this market both now and in the years ahead. All of the top players are profiled in depth, including VPI, Pethealth, Hartville (ASPCA), Western Financial/Petsecure, PetFirst, PetPartners (AKC), Vetinsurance/Trupanion, Pets Best, Embrace, Fetch (Petplan USA) and PurinaCare. Statistics provided include historical and projected market revenues, number of policies in force, and company shares (both U.S. and Canadian), along with profiles of pet owners and pet insurance purchasers, based on data from sources including Experian Simmons, The American Pet Products Association, and Packaged Facts own consumer surveys.
Market Insights: A Selection From The Report
---
5% of Dog Owners With a HH Income of $60K+ Carry Pet Insurance
Among dog owners, according to the APPA data, pet insurance penetration rates rise to 6.7% among those who visit the vet three or more times annually, 5.3% of those with a household income of $60K or more, 4.9% of those with large dogs, and 4.5% of those who spend $420 or more annually on dog-related expenses, among other indicators. [Figure 5-2; Table 5-8]
North American Pet Health Insurance Association (NAPHIA)
NAPHIA was also heavily involved in California State Assembly bill AB2411, which would have required additional regulation for pet insurance in California, but which was vetoed in late September 2010 by Governor Schwarzenegger. NAPHIA's position on the bill (which was also strongly supported by VPI) was that by making information about pet insurance policies more easily available to consumers, the industry overall would have benefited from greater transparency resulting in fewer disappointed customers. Longer-term, NAPHIA also supports "tackling barriers to providing pet insurance," Mr. Hickton told Packaged Facts, since the currently monumental state-by-state process is considered one of the main roadblocks to market entry in the United States, especially vis-à-vis the much lower level of regulation in the U.K.
Given NAPHIA's success in signing on virtually all "new generation" pet insurance market players (the notable exception being Petplan USA) and the association's cooperative goals, Packaged Facts views NAPHIA as a plus for the pet insurance industry, as well as a sign of its growing maturity and stabilization. With more companies and products than ever before in the market, a third-party entity representing the common good of the industry becomes more important on several fronts, including the dissemination of information, self-regulation, and government lobbying. That said, the two largest companies in the market—VPI and Pethealth—have thus far resisted signing on. Looking ahead, however, these companies may see additional benefits in the kinds of data pooling and joint PR and lobbying efforts that are NAPHIA's goals, especially if membership becomes a kind of "good housekeeping seal" consumers look to for reassurance in selecting pet insurance providers.
Internet Popularity Among Pet Owners a Plus
According to Packaged Facts' February 2010 pet owner poll, 21% of pet owners agree (strongly or somewhat) that they use the Internet to help find and choose pet products, and 27% agree that they buy pet products online. In addition, dog owners and cat owners—and cat owners in particular—are above average when it comes to many Internet-related activities. Cat owners are, for example, 19% more likely than average to agree that "the Internet as changed how I shop for products" (index of 119) and 16% more likely to be "doing more Internet shopping than before" (index of 116). [Table 2-9 through 2-11]
In the News
---
North American Pet Insurance Market Continues Growth, Though Impact of Recession Lingers
New York, October 26, 2010 — The North American revenues of pet insurance reached $354 million in 2009, up 14% from $310 million in 2008, as the market continues to chart what is forecast to be double-digit annual increases through the next five years, according to Pet Insurance in North America, 4th Edition by market research publisher Packaged Facts.
Sales of pet insurance in the United States totaled $303 million in 2009, up 16% from $262 million in 2008, when sales rose 27%. Pet insurance sales in Canada accounted for the remaining $51 million, up 8% from $48 million. Packaged Facts estimates the number of pets insured in North America at more than 1 million as of 2009, with the U.S. accounting for more than 80% of the North American total.
The report uses gross written premiums (GWPs) as the main measure for calculating market size. Also referred to as "earned premiums" or "annualized premiums," GWPs are the revenues expected to be received over the life of the contract when a non-life insurance company closes a contract to provide insurance against loss.
Given the slow but steady economic recovery and high level of competitive activity, Packaged Facts predicts that growth in GWPs will climb back to 20% in 2010, and that the annual increase will average at this level through 2014. By this measure, North American GWPs will reach $881 million in 2014, representing a compound annual growth rate of 20%.
Even with the impressive projections, the recession remains an ongoing factor in the market's future with consumers unwaveringly cautious about their spending habits. Results of Packaged Facts' September 2010 consumer survey reveal that among those who did not have pet insurance, 42% cited "don't want additional bill" as the reason and 37% said they "don't want to spend the money for it." With economic recovery slow at best, this reticence is unlikely to change overnight, suggesting marketers still face significant hurdles in communicating the value of pet insurance to a wider audience.

"Despite the currently high level of market dynamism, our projection represents significant moderation over the 25%-35% rates we predicted in previous editions due to the lingering effects of the recession," says David Lummis, senior pet market analyst for Packaged Facts. "That said, the level of competitive activity is at an all-time high, and with so many irons in the fire we are not ruling out a higher growth rate. However, such growth will depend on the ability of marketers to move from what appears to be a stage of market cannibalization to one of more uniform growth via an expanded overall consumer base."
The report reveals that one possible catalyst to higher-level growth would be the entry into the market of another mega-retailer, such as PetSmart—via its Banfield units—or Walmart, which is reportedly planning a Canadian launch as a Western Financial white label.
Pet Insurance in North America, 4th Edition is the most comprehensive examination of the U.S. and Canadian pet insurance markets available and a must-have for any company interested in this dynamic industry. The report offers a road map for competing in this market both now and in the years ahead. All of the top players are profiled in depth. Statistics provided include historical and projected market revenues, number of policies in force, and company shares (both U.S. and Canadian), along with profiles of pet owners and pet insurance purchasers based on data from sources including Experian Simmons, The American Pet Products Association, and Packaged Facts' own consumer surveys.

About Packaged Facts —Packaged Facts, a division of MarketResearch.com, publishes market intelligence on a wide range of consumer market topics, including consumer goods and retailing, foods and beverages, demographics, pet products and services, and financial products. Packaged Facts also offers a full range of custom research services.
Pet Market Insights From Analyst David Lummis
---
Packaged Facts Column for Petfood Industry/1st Quarter 2010
State of the Industry
True to the pet industry's recession-resistant claim to fame, sales of pet products and services rose 4.8% in 2009 to reach $53 billion, meaning that the market added two and a half billion dollars in the midst of the biggest economic crisis since the Great Depression. That said, pet market growth has not been uniform across areas of the market, with the less discretionary categories of food and veterinary services faring the best, and non-essential products and services faring the worst. Sales of veterinary services rose nearly 10% in 2009, followed by petfood at 5%, non-food supplies at 3%, and other pet services at 4%, according to Packaged Facts' March 2010 report.
Moreover, while the recession is officially over, no one expects consumer confidence and spending to rebound overnight, with most economists predicting a slow recovery. And no marketer or retailer can afford to ignore recessionary effects on consumer shopping patterns that could linger for years. To weather the economic storm, many Americans reprioritized shopping lists along essential vs. discretionary lines, reevaluated channel loyalties based on factors including convenience and discounts, and traded across categories and brands. For example, although dog and cat food sales rose 7% in 2009 according to Information Resources, Inc. data for supermarkets, drugstores and mass merchandisers except Walmart, this high rate of growth derives in part from slower going in the pet specialty channel.
In short, the word "restraint" will continue to characterize how Americans shop and what they buy in the years ahead, making petfood appeals based on health, safety, convenience, comfort, practicality and professionalism more important than ever in wooing the nation's 61 million pet-owning households and meeting the needs of their nearly 400 million pets. At the same time, there's still plenty of room for pet pampering and indulgence positioned squarely on the human/animal bond, as reflected in dog biscuits/treats and cat snacks 2009 sales gains of 8% and 15%, respectively, per IRI.
Value, Value and Value
During 2010, the most effective strategy for all pet market players can be summed in a word: Value. Because this common denominator takes on different meanings for different consumer groups, Packaged Facts segments pet owners into three fairly evenly sized cohorts, each of which defines and responds to the notion of value in its own way.
Value-Critical Pet Owners tend to not view high prices as a primary petfood purchasing criterion, spending 25%-50% more than pet owners on average. However, they do expect the products they buy to deliver tangible health benefits and emotional rewards, and will be the first to say so if they don't. Not surprisingly, this group comprises higher-income households as well as those who view their pets as full-fledged members of the family. Because these dog and cat owners associate petfood and treats closely with pet health, they are the most ingredient-aware group and the least likely to switch brands absent a good reason.
Value-Influenced Pet Owners view pricing as a top petfood purchasing criterion. Unlike value-driven consumers (see below), price is not, however, their foremost shopping draw, and they may be swayed in either premium or value directions. This is the group Walmart is going after with its "exact same brands as those found in the pet specialty channel at unbeatable prices" campaign (which features the mass/specialty bridge brand Iams). It's also the target for PetSmart's new TV commercials offering up to 20% savings on hundreds of items. As this price-centered duel suggests, a fierce tug of war for value-influenced pet owners is underway, with a growing proportion of the group shopping both mass and pet specialty, and with the weak economy giving the latter a leg up.
Value-Driven Pet Owners base their petfood purchase primarily on price. Although this does not preclude seeking out higher quality foods, this is the group most likely to hold the opinion that there's little if any difference between national and store brands. With the winds of the recession beneath its wings, private label increased its share of petfood sales to 11% ($622 million) in 2009, up from 10% ($543 million) in 2008, according to IRI, with value-driven pet owners likely representing the bulk of that 15% increase.
By focusing heavily on any one of these value groups, petfood marketers increase their chances of success during these still iffy economic times. Even better, many companies and brands are well positioned to attract value-influenced pet owners in addition to one of the other groups, and during the coming year and beyond those "middle of the road" consumers will determine the fortunes of many pet market players.
---
Pets International, Issue 3/2010
U.S. Pet Supplies Market Expecting Pent-Up Demand
Retail Sales Near $11 Billion in 2009
Packaged Facts estimates that U.S. retail sales of non-food pet supplies totaled approximately $10.7 billion in 2009, up 2.5% over 2008. During the five-year 2005-2009 period, the market increased by a total of 17.6% and posted a compound annual growth rate (CAGR) of 4.1%. As a result of the economic recession, growth slowed in 2008 and 2009 as consumers reduced spending in non-essential categories and traded over to lower-priced products and value-oriented channels.
U.S. Retail Sales of Pet Supplies: 2005 vs. 2009
(in millions of dollars) Source: Packaged Facts, The U.S. Market for Pet Supplies and Pet Care Products, 7th Edition report (January 2010)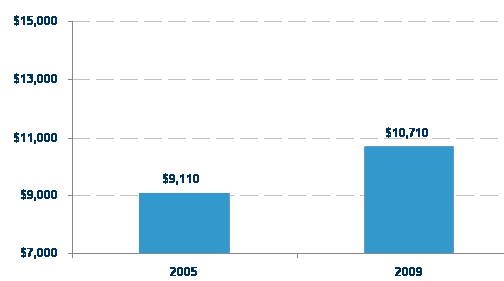 Dogs account for the lion's share of sales of pet supplies, at 61% in 2009, followed by cats at 33%. The balance of sales goes to other animal types, with fish and reptiles slightly edging out birds and small animals, at 55% to 45%, respectively. Flea/tick products are the top-selling dog category by a significant margin, accounting for almost one-quarter (23%) of dog supply sales during 2009 (inclusive of products restricted to the veterinary channel). The cat side of the aisle is dominated by the staple litter, which accounted for 43% of cat supply sales during 2009.

Duo the Leading Retail Force
In the U.S. market, pet stores are the top channel for non-food pet supplies by a considerable margin, representing nearly half (46%) of sales in 2009. Most of these pet specialty sales trace back to PetSmart and Petco, which together accounted for almost a third (31%) of the market in 2009, with independents pulling in less than half that amount (15%). Supermarkets continue to slide, to 10% in 2009, while mass merchandisers continue to rise. From 2005 to 2009, the mass sector's market share went from 22% to 23%, no doubt benefiting from the recession as consumers traded down across brands and consolidated shopping trips. Another retailing bright spot is online, and with pet products showing up in a wider-than-ever array of channels, "other" channels' collective share is also on the ups.
Mergers & Acquisitions Ongoing
Despite the global economic meltdown and uncertainties surrounding major financial and lending institutions, the pet market saw several mergers and acquisitions in 2008 and 2009. On the non-food side, these included Bramton's purchase of Veterinarian's Best, Radio Systems' purchase of MultiVet International, and Sergeant's purchase of Chomp and of Virbac's Consumer Brands division. Activity has been slower on the pet food side, with no major shifts occurring either year, although Old Mother Hubbard/Wellness (a top brand in the pet specialty channel) went from one venture capitalist to another. While still quite respectable, this level of activity pales in comparison to that seen earlier in the decade, with such dramatic shifts as Rayovac's 2005 market entry and subsequent creation of Spectrum Brands, and Hartz's summer 2004 acquisition by Japan's Sumitomo.
2009 a Record Year for New Product Entries
The U.S. pet supplies market relies on new products as a principal sales driver, with upgrades and innovations constantly appearing to pique consumer interest and open retail doors, and marketers were apparently relying on new products more than ever during the economic downturn. According to Product Launch Analytics, a Datamonitor service, the numbers of new product lines and stock-keeping units (SKUs) jumped sharply in 2009, with the number of reports increasing 57% to 213, and the number of SKUs increasing 84% to 735. Considering the previous four-year period, this is the highest level of new product activity by far, with just 148 reports and 402 SKUs appearing in 2005. Despite the weak U.S. economy, the top package tags and marketing claims make it clear that the pet market continues to shift in premium directions. At the top of the list is natural, which appeared in 102 new product reports, up from 65 in 2008.
Economic Concerns Intensify Cross-Channel Competition
As of spring 2010, cross-channel competition is at an all-time high in the U.S. market as consumer trends adopted during the recession persist, from spending cutbacks to consolidated shopping trips. Signs of the challenges retailers face include fierce competition between big-box pet specialty and mass, private-label incursions into non-food pet products, declining sales among independent pet specialty retailers, and price promotions across all retail sectors. In such an environment, value-oriented retailers stand to cash in, as Walmart has been aggressively working to do. According to Packaged Facts' February 2010 pet owner poll, 52% of pet owners agree with the statement "I shop for pet products at a variety of stores to find the best prices, special offers, and sales," with 16% strongly agreeing and 34% somewhat agreeing. On the other hand, only 30% of survey respondents report that they do not engage in deal-seeking behavior of this sort.
With these same trends continuing into 2010, retailers are employing a variety of strategies to draw shoppers into the store, and cooperative promotional programs with vendors are going strong. For retailers, one of the biggest advantages of co-op promotions is that the big consumer packaged goods outfits typically foot much of the bill, allowing retailers to impact trip decisions without compromising their own margins too drastically. Coupon offers also can be highly effective in supporting store loyalty programs such as Petco's PA.L.S. and PetSmart's PetPerks, while forming the core of collaborative special events programs between retailers and manufacturers, à la PetSmart's President's Day sale featuring Hill's Science Diet and its new lower pricing.
Looking Ahead
As a result, with the economy on a slow but apparently steady recovery path, Packaged Facts is predicting a better showing for pet supplies in 2010 as pent-up demand begins to kick in. By our forecast, annual sales growth will rebound from 2.5% in 2009 to 4.0% during 2010, then climb back up to 5% in 2013 and 2014—an assessment that presumes much market dynamism moving forward.
Additional Materials
---
The North American market for pet health insurance has never been more competitive. During the past five years the number of established players has doubled, and all of the companies now in the market appear to be on solid ground. Where is this market headed? How will companies incorporating distinct trends now impact the industry in the next five years? Furthermore, what business strategies will maximize their bottom line?
Presentation authored and read by David Lummis, Senior Pet Market Analyst, Packaged Facts