Breakfast is a beloved meal, infused with childhood memories and nostalgia. The secret to expanding on this favored meal is to tap into breakfast's beloved qualities—the warming comfort, the ease of eating, the familiar flavors—and make them accessible in new ways that appeal to today's consumers. Better-for-you formulations, portable formats, new flavors and higher-quality ingredients are being used by creative chefs, restaurateurs and home cooks to bring new dynamism to morning foods.
Fact is, breakfast isn't just hot: it's cold, eaten in the form of whole grain cereal and customized granola; it's gourmet, made into elaborate artisan breakfast sandwiches; it's a beverage, served all day in the guise of salad with poached eggs and bacon or dessert waffles. Breakfast is so much more than it used to be—and it's more popular than ever in foodservice, despite the economic downturn.
Fierce competition in every sector for the breakfast dollar is pushing innovation in today's breakfast foods, along with a number of key drivers exemplified in the report's trend profiles:
Artisan Breakfast: These traditional breakfast dishes are made by hand, using the freshest ingredients and incorporating global flavor twists.
Third Wave Coffee: Coffee enthusiasts are going beyond espresso to reinvent this ancient caffeinated beverage, creating a superlative cup of Joe that's brewed with care from only the best beans.
New Whole Grains: As consumers are looking for gluten-free alternatives and better-tasting, healthful breakfast options, whole grain cereals and breakfast pastry are diversifying beyond whole wheat.
Waffles Gone Wild: Waffles can be used as a carrier or simply solo, and are taking on new savory and sweet forms everywhere from fine dining to street food.
Breakfast Pizza: America's favorite savory pie gets a breakfast twist, topped with ingredients such as eggs, bacon--and even fruit!
Eggs All Day: Eggs are a flexible protein that can be healthful or decadent, down-home or gourmet, and they're being adapted for all dayparts by magazines for home cooks.
Breakfast in a Bowl: Breakfast foods ranging from the savory to the sweet, combined together in a bowl for a portable, convenient, one-size-fits-all breakfast.
• • • • •
The Culinary Trend Mapping Report is an indispensable tool for those whose job it is to stay abreast of what's hot - and what will be - in the food world.
The reports leverage the Center for Culinary Development's (CCD) signature Trend Mapping technique, a validated method for identifying which culinary trends are gaining traction and which are simply flashes in the pan.
Each 65+ page journal is packed with trends, data, strategies and insights on the food industry that simply aren't available anywhere else.
Each Issue of the Culinary Trends Mapping Report
Identifies the maturity level of foods and ingredients according to CCD's unique, proprietary 5-stage trend mapping process.
Concentrates on a theme that is affecting the food industry, and then looks at the emerging and established trends along the Trend Map that are shaping this theme.
Delves into these trends and what they mean for you and the manufacturing, retailing, and foodservice industries.
Gives strategic insight into how consumers are thinking of and reacting to new foods and ingredients.
Provides business know-how regarding opportunities, challenges, and ways to implement current trends into foodservice, retail, and packaged goods operations.
Presents a feature interview with a member chef from CCD's exclusive 80+ member Chefs' Council who offers expert analysis and unique perspective on a specific trend.
Trend Mapping
Trend Mapping is guided by the premise that major food trends pass through five distinct stages on their way to the mainstream:
Stage 1: The ingredient, dish and/or cooking technique appears at upscale dining establishments, ethnic and popular independent restaurants.
Stage 2: The item is featured in specialty consumer-oriented food magazines such as Bon Appetit plus retail stores such as Sur La Table that target culinary professionals and serious home cooks.
Stage 3: The item begins to appear in mainstream chain restaurants—Applebee's or Chili's—as well as retail stores such as Williams-Sonoma that target recreational cooks.
Stage 4: Publications such as Family Circle and Better Homes and Gardens pick up the buzz.
Stage 5: Finally, the trend makes its way to quick service restaurant menus and either starts to appear or gains increased mainstream presence on grocery store shelves.
Availability
Published bimonthly, the Culinary Trend Mapping Report is available for purchase as a single issue or a six-issue subscription.
Market Insights: A Selection From The Report
---
Stage 2: Third Wave Coffee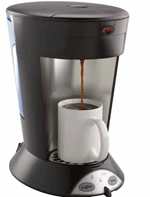 "Third Wave" coffee practitioners (First Wave = rise of commodity and instant coffee post WWII; Second Wave = espresso and espresso drinks along with Starbucks and Peet's specialty brews) fixate on coffee with an unwavering devotion, treating the every day brewing of coffee like a sacred ritual. The coffee itself redefines quality: It comes from beans that are meticulously sourced for flavor and then painstakingly roasted in "micro" batches. As for brewing, there are all sorts of elaborate techniques and equipment that enable coffee geeks to brew the ultimate cup. This bean-to-cup quality and care translate into a superior tasting cup of coffee, aromatic in intricate ways and easy on the palate and stomach, available at small independent coffee shops everywhere.
Stage 2: New Whole Grains
Generation Yers are accepting whole grains, and the increased availability of whole grain products in grocery stores means people of all ages are eating more of them—a 38% increase over the last three years. Whole grain examples abound at Stage 2, including new glutenfree cereals and pastries that don't skimp on taste, perfect for a truly satisfying and healthful breakfast. These products are sending the message that healthful breakfast eating does not have to be boring, and this flourishing natural cereal market is literally exploding with flavor, providing consumers with countless options.
Stage 3: Waffles Gone Wild
Something fascinating is going on with this tried-andtrue breakfast staple. Like so many breakfast foods, waffles are finding their way into other dayparts, from savory lunch and dinner forms, to starchy carriers for sandwiches and dessert. The flexibility of waffles makes them endlessly adaptable, and they are being re-imagined everywhere from fine dining to chain restaurants and Williams-Sonoma, making for an exciting Stage 3 trend.